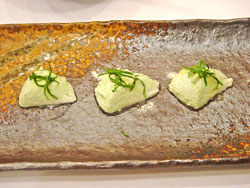 Ingredients:
1 small pack Banrai soymilk
1 oz edamame paste
(cooked, pureed in a food processor and pressed through a fine sieve)
Sea salt
Shiso, julienne
Preparation:
Place the edamame paste in a 2 cup measuring cup. Pour in Banrai soymilk that has been chilled in refrigerator for 2 to 5 hours, stirring gently with chopsticks until the total of edamame paste and soy milk is about 4 ounces. Add the proper volume of water in the outer Banrai pot and set the white container inside. Gently pour in the edamame and soymilk mixture into the white container. With a paper towel, remove any bubbles appearing on the surface.
Cover the Banrai pot with lid, place the pot over medium-low heat, and cook for 8 minutes. After cooking, leave the pot covered for an additional 3 minutes. Do not remove lid at any time during cooking. Allow tofu to rest.
Scoop the edamame tofu into a serving plate and garnish the top with julienned shiso and a sprinkle of sea salt.
Variation: Serve the edamame tofu with virgin olive oil and sprinkle of black olive flakes*.
*Black olive flakes: Pit and mince the black olives. Spread them over a sheet pan covered with an oven resistant cookie sheet and dry-cook them in the heated oven at 250°F, for 40 minutes.